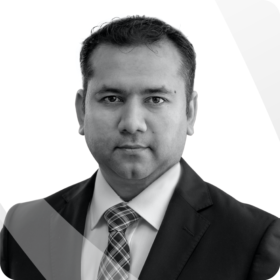 FARID AHMED
Managing Partner
Farid Ahmed is the Senior Member of the Virtus Group of Companies in UAE, UK and India. His key role is to lead the Virtus group partners, Associates and Employees to work in alliance with the group clientele and work towards the collective growth of both clients and the Virtus Group vertical businesses.
He is an executive strategy leader and true management consultant, with stretching years of achievements in Organization Development, Strategic Finance and HR Management. Has won several Global Awards for his contribution and passion in Organisation/Business Strategy & HR and a noted speaker and panelist on Business Strategy and various HR vertical subjects in many EMEA & APAC conferences, forums and magazines. Has a rich career history which spans across several industries including semi-government & the big 4 consulting and fortune companies worldwide including: PwC, Nokia Siemens Networks (NSN), United Arab Shipping Company (UASC), Emaar Properties, Xpert Learning, IBFI, Proctor & Gamble (P&G) and Compaq. His indirect work experience during his consulting includes clients such as: Manazel Real Estate, Saudi Investment Company (Banaja), Environment Agency Abu Dhabi (EAD), Abn-Amro, National Bank of Dubai, Siemens, Ducab, Zadco, Visa, Nestle, Alstom, Emirates Airlines, Qatar Petroleum, NPCC, Adco, Gargash Insurance, MMI, UPS, Nissan, KNPC, Boursa Kuwait (Nasdaq), Caltex, EFS, DEWA, Palmon Group, Motorola and Dubai DutyFree.
He is experienced in several "Start-up" companies in the last 18 years in the US, UK, Middle East and Asia. Has raised Angel/Seed Capital Investments and other working capital of over US$: 220Million for private and public entities. Has managed budgets of over US$: 700 Million in corporate performance and spends in the EMEA region. Has experienced several life cycles of implementing and operating corporate-wide Change Management strategies and initiatives for fortune 500 companies across the globe, alongside implementing performance management systems based on competency frameworks, and mapping/executing talent management solutions across the board and linking it to total rewards. He has also executed 6 major mergers & acquisitions of companies in the EMEA region, with complete transformation experience.
Farid has a bachelor's degree in management information systems from Oklahoma State University and Regis University, USA and a master's degree in organizational psychology from India. He has also completed his executive management studies in HR Strategy from the ILR School in Cornell University and is a Certified Psychometric Assessor (CPA) Level 1 & 2 Trainer.