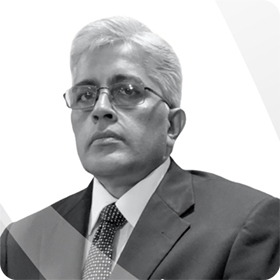 DR. R.SUBRAMANIAM
Senior Partner
Dr. Ramesh Subramaniam is a Senior Partner in Virtus and brings in a wealth of experience in Information & Technology Industry for more than 28 years. Over the years he has core experience in: Operations of Mainframe Systems, Software development, Business Development, Process Consulting, Product development, Project Management, Organization quality, Process Implementation, SBU Management, Organization Management, M&A, Legal Compliance, Cross Border Taxation Management etc.
He has worked in India, US, UK and the EMEA region with organisations like: Amalgamated, CMS Computers, Citibank, IBM. Set up the First Banking solution offerings to India , was responsible for bringing first ATM's to India . Was involved in Switch Development, brought Plastic card Implementation of Debit and Credit Card , brought in specialized equipment which could do card issuance, Card Personalization, Security, Was involved Branch and Head office Technology Setups for large Banking and Financial and Industrial, Institution in India , Middle East, Europe, USA and Asia Pacific countries. Was guest lecturers Globally on various Management and business forums. Has BOT projects in Middle Eastern countries, Africa, USA and Europe, brought a number Technology Tie ups to India, was involved in setting up a number of JV with large Multi nationals. A true cross-industry vertical expert in multiple functions.
Understands complex Financial Planning. Budgeting Consolidation, Dash board reporting, Data Warehousing and Data Massaging, and Extract, Transform and Load Scenarios (ETL Tools). Understands thoroughly USA Tax and India Tax Compliance management, fairly well conversant with legal systems in India, USA, Germany and Middle East.
Dr. Ramesh is also advisor to several investment committees and venture capital funds in India, Hongkong and Singapore. He has successfully raised funds via Private Equity, Various forms of Debts, Working Capital, term loan/Mezzanine/CCD/Preferential Shares/NCD and beyond.
A socialite committed to Social Cause and Society development especially in the areas of Terminally Ill Patient Management, Child Cancer Management, Neo Natal management, Food Donation management, Disaster Management.
Dr. Ramesh is quiet the scholar with numerous qualifications and trainings under his cap. He holds a Phd. In Nuclear Physics from the US, MBA from UK and is also a CA from renown Universities and institutions.